Moynihan Train Hall is conveniently located directly across from the existing Penn Station complex, on the west side of 8th Avenue, and offers the same easy access to the A,C,E and 1,2,3 subway lines and local bus services, as well as CitiBike, taxi and rideshare services right outside the Train Hall.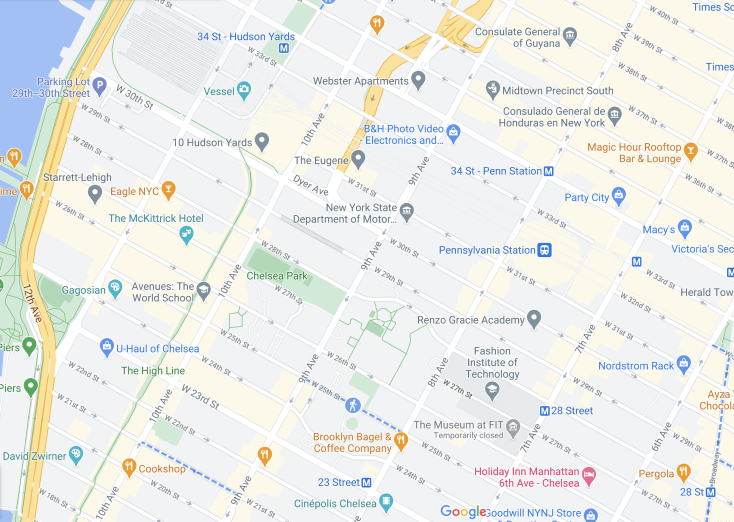 Opening Hours: 5:00AM – 1:00AM, Daily
Note: Amtrak and LIRR services at Penn Station should be used from 1:00AM – 5:00AM.
Address: Moynihan Train Hall, 421 8th Avenue, New York, NY  10199
Whether you're passing through as part of your daily commute or making a special trip, Moynihan Train Hall provides all the facilities you need, and more!
Free WiFi is provided through-out the Train Hall for your use. Please visit the Free WiFi page for instructions on how to connect.
Public restrooms are located at the concourse and first floor levels of the Train Hall. There are also restrooms available in the Ticketed Waiting Room and in the Metropolitan Lounge.
Charging stations are located at the Long Island Railroad Information Desk, and within the Ticketed Waiting Room.  Passengers with tickets allowing access to the Metropolitan Lounge will also find charging stations in this space.
Luggage storage is provided by Amtrak for all passengers, regardless of the railroad operator that you're traveling with. Please visit the Amtrak Customer Service desk to arrange luggage storage.
Amtrak Lost & Found services are located within the Train Hall. Please visit the Amtrak Customer Service desk to enquire about lost items. 
Lost & Found services for Long Island Railroad are located in Penn Station.  Please visit the Long Island Railroad Customer Service desk if you require assistance locating this service.
Amtrak and MTA police services operate throughout the Train Hall. If you require assistance, please visit the Police podium, near to the Ticketed Waiting Room, or speak to a uniformed officer.
Please review the directory for the exact locations of the above services. If you need help finding any of the facilities in the Train Hall, speak to a uniformed Amtrak or Long Island Railroad employee who'll be more than happy to assist you!
Please Note, a Number of Services Remain in Penn Station:
New Jersey Transit Ticketing & Customer Service
Long Island Railroad Lost & Found